By cross-sector cooperation, technology and social innovation, we can help low-income youth to better integrate into China's economic new normality—which is driven by knowledge, technology and skills—and gain more "dividend" on personal development. This is the theme of Youth Career Development Forum held in Landmark Tower's convention center on November 14th.

Leping Social Entrepreneur Foundation and Gingko Foundation joined forces to hold the forum that converges power from government, academia, business, social organizations and media, to discuss the concrete paths to create more job opportunities and promote career development of low-income youth, as well as explore the possibility of collaborations in the near future.
The keynote speakers included TANG Min, State Department Counselor and Director of Leping Social Entrepreneur Foundation; YANG Jin, Director General of Central Institute for Vocational and Technical Education, Ministry of Education (CIVTE); Dr. BAO Chunlei from Research Center of Ministry of Human Resources and Social Security; Brandee McHale, President of Citi Foundation; XING Shuai, CEO of Xingshuai Education; Wu Hong, Chief Education Officer of Hujiang Education.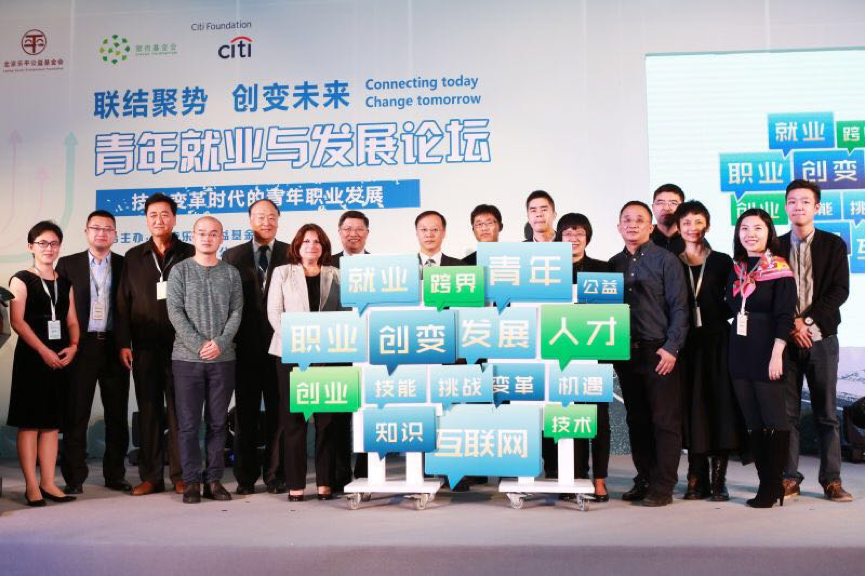 Guest speakers completed a jigsaw with each piece representing a keyword, sending a clear message that echoed with the forum's theme: "converge thoughts and achieve cross-sector collaboration".
Youth's Career Development at "Internet +" Age
TANG Min, State Department Counselor and Director of Leping Social Entrepreneur Foundation inaugurated the forum with an opening speech. He summarized the impact of China's economic policies in the "New Normality" to young people's employment, and the opportunities and challenges brought about by new technologies such as Internet, big data, cloud computing and AI.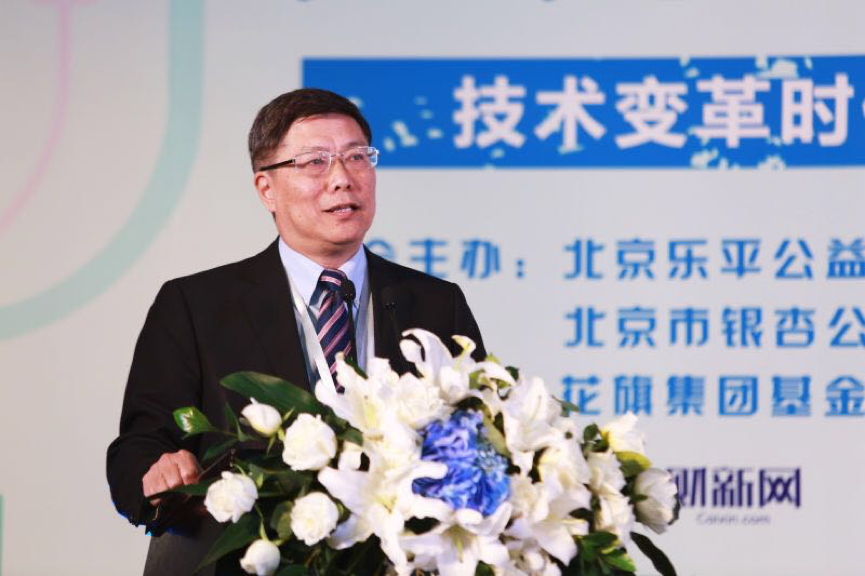 TANG Min, State Department Counselor and Director of Leping Social Entrepreneur Foundation
He said, migrant workers from rural regions are becoming the backbone of industry workers, whose skills, educational level and quality directly affect China's future, the industrial upgrading and "craftsmanship".
In the "Internet +" age, traditional training model is undergoing fundamental change. Simple, effective, low-cost and large-scale trainings can cope with the challenges of this age when technologies advance rapidly.
Fuping Vocational Training School is adopting the "Internet +" thinking to break fre from the limitation of conventional housekeeping. It starts to provide online courses that demonstrate housekeeping skills and knowledge in animation and accessible from smartphone. It's a very good new training model.
The career development of low-income youth has always been a focus of Leping Social Entrepreneur Foundation. As early as 2002, it invested and incubated Fuping Development Institute (former Beijing Fuping Vocational Training School) to provide vocational training for rural women, helping them to find employment with dignity. Fuping is a long-term practitioner of PPP model (Public-Private Partnership). It also fought for the legislation of female domestic workers' right to annual holidays in Beijing.

Dongshu(Jaff) SHEN, Secretary General of Leping Social Entrepreneur Foundation
Just as Mr. TANG Min mentioned, against the backdrop of this new age, Fuping has been piloting on a training model that can empower more people with vocational skills at lower cost; one that can be applied on large scale to reach more low-income youth. It has developed a series of online housekeeping training courses and a highly interactive mobile learning community.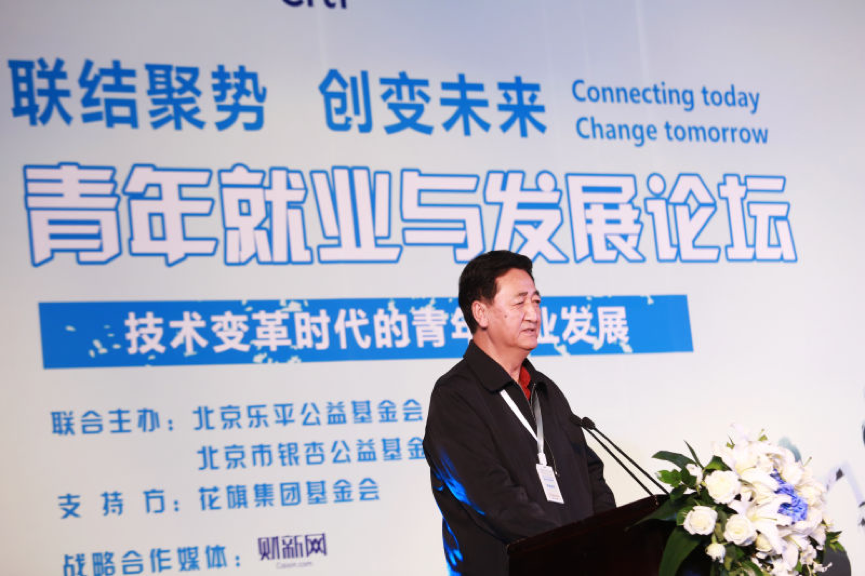 CHEN Zupei, Vice Principal, Fuping Development Institute, shared Fuping's decade-long exploration and achievements.
Technology is Key to Career Possibilities for Both Employees or Business Owners
Citi Foundation is a long-term supporter and partner of Fuping in helping low-income youth's career development. Technology is play a critical role in improving young people's capabilities. It's like the key that opens various possibilities for their career. Therefore, we should give young job seekers access to technology, a level playground and suitable consultations to unleash their full potential, said Brandee McHale, President of Citi Foundation.
Beyond directly giving low-income youth support on career development, in recent years, Fuping has been encouraging more young people to align their career choices with solving social issues by starting up in the nonprofit sector. As part of this effort, Fuping introduced social innovation courses from prestigious overseas universities and incorporated them into the innovation and entrepreneurship education system in Chinese universities, in hope to cultivate college students' problem solving abilities and entrepreneurship, so that they can provide more job opportunities or quality services for the low-income population.
In the forum, some specialists also shared their insights on young people's startup practices. Dr. BAO Chunlei from Research Center of Ministry of Human Resources and Social Security shared his study on current Chinese youth startups.
Among the 4,000 samples he collected from 20 cities in 7 provinces, 20% of youth started their business enjoy incentives from government policies, most took initiatives themselves. Their awareness of policies is quite high, although the young farmers and migrant workers enjoy less favorable policies to start their own business. Some problems also surfaced in the study, such as a lack of capabilities, limited effectiveness of the policies and the services provided for them don't cater to their diversified needs.
Dr. BAO made his suggestions according to his findings. Firstly, specify and implement the government policies and services for entrepreneurship; secondly, bridge the gap between "encouraging" and "supporting" startups; keep the sustainable development of startups; strike a proper balance between specific and general policies.