On September 23rd, during the Hong Kong Social Enterprises Summit, Leping Social Entrepreneur Foundation, Hong Kong Society for Entrepreneurship Forum, Hong Kong Society of Social Sciences and SVP jointly held the "Cross-Strait B Corp Perspective Forum". While Part 1 summarizes the views of guest speakers, shared the consensus that global B Corp movement is inevitable, the article is going to analyzes China's market environment for B Corp, and presents Leping's feasibility study and action plan for B Corp in this coming year.
Market Observation

Though B Cop's certification system is highly operable, it's not easy to apply a certification system so deeply rooted in the western context to China. Based on the features of Chinese market, we raised several questions, answering which will be the key of our feasibility study.
Is there a market for the enterprise certification model in China, and how to ensure the credibility of certification?

Is B Impact Assessment scientific and applicable enough to identify the real B Corps in China?

Is B Corp's corporate structure arrangement effective in the context of Chinese market?

Based on China's corporate law, is the legal requirement of B Corp necessary and feasible?

Additionally, guest speakers also raised the possibility of adopting Internet thinking to promote B Corp movement in China.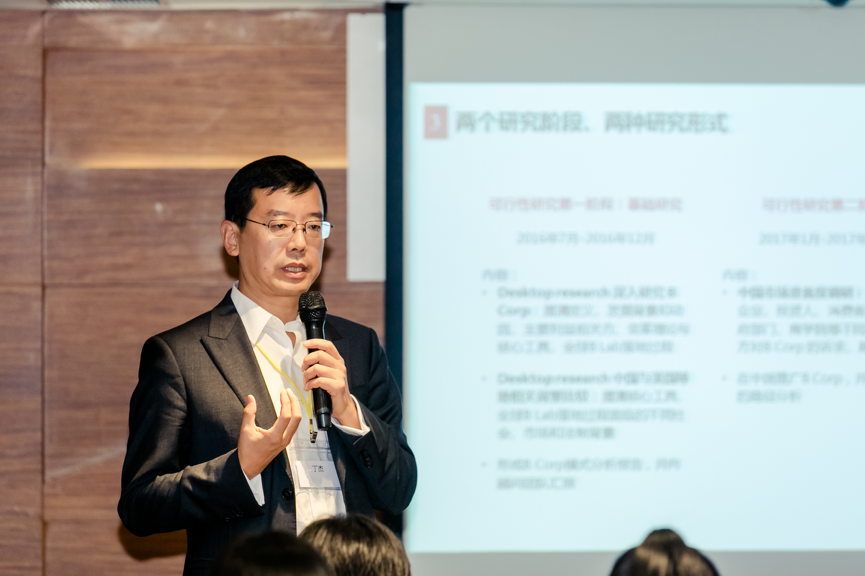 Jason Ding, Partner of Bain & Company:
"There is already demand for the B Corp movement in China:
Entrepreneurs: B Corps provide entrepreneurs with a clear business opportunity that combines commercial and social values. Entrepreneurs are the rarest resource in the world, who benefit society by innovations on resources, finance and organization. B Corp offers a guideline to entrepreneurs who want to create social values.
Consumers: More consumers are not satisfied with functional products and services, but want to contribute the society while enjoying the functions of them. This population will be the foundation of promoting B Corp in China.
Employees and partners in the eco-system: The 90s generation employees are more actively seeking the value and meaning of live. If these people recognize the value of B Corp, it will generate great social impact. The other market trend is, concepts like Internet thinking and sharing economy bring consumers with many trustable products, because they grow from word-of-mouth publicity and trust. So, maybe we can use Internet thinking in implementing B Corp in China. Should we still use centralized method, like B Lab, to promote the B Corp certification? Can we use crowdsourcing to invite more people to work in the certification process? If we can make full use of Internet thinking, maybe it will yield some fantastic result."
Leping Will Explore the Unlimited Possibilities of B-Corp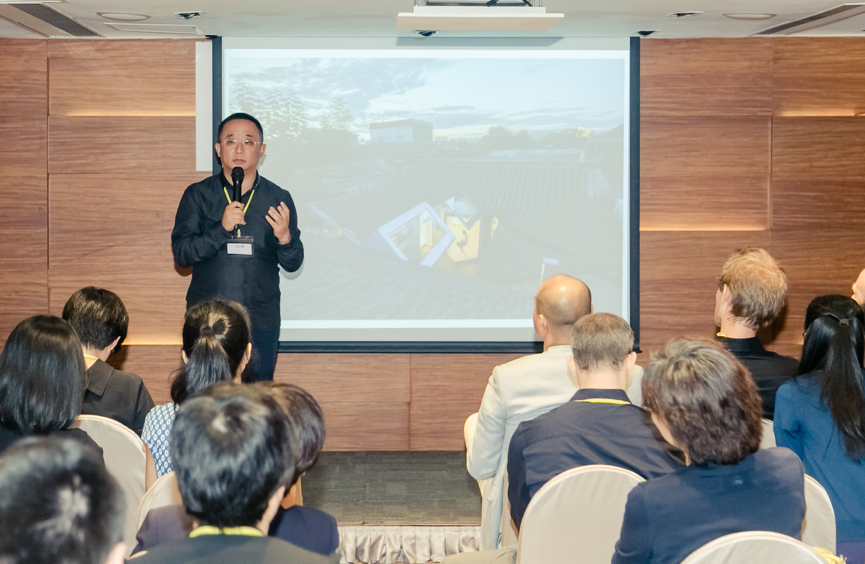 Dongshu(Jaff) Shen, CEO of Leping Social Entrepreneur Foundation shared why Leping conducts B Corp feasibility study:
"Without good products and service, B Corp is no more than a hollow concept. Leping initiated the B Corp feasibility research in China both to join the movement that is sweeping the globe, but also to explore the possibility of a new global civilization. Leping positions itself as 'the catalyst and market maker for social innovation', as we are thinking how to generate new values through implementation research and learning by doing. We will always stay foolish and stay hungry, and B Corp is a very good starting point because of the operability of its certification model."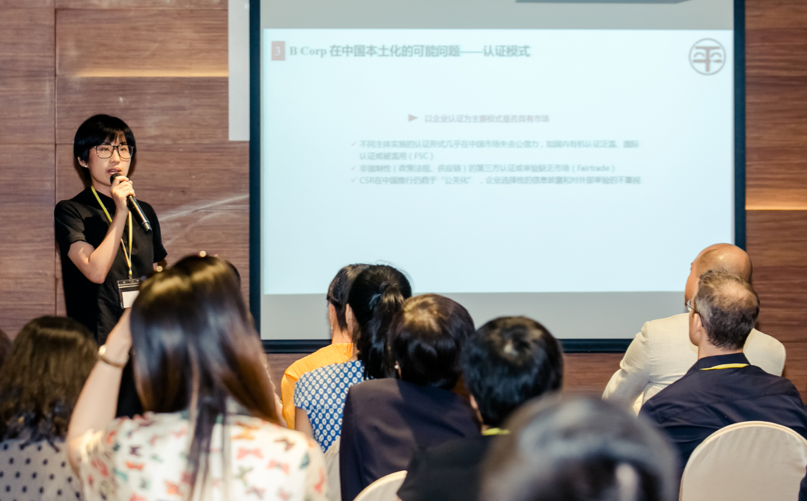 ZHENG Di, Researcher, Leping B Corp Project
"When Leping carried out its feasibility research, it adopted ZI Zhongyun's translation for B Corp, which literally means 'mutual benefit corporation', to signify the possibility of wider benefit. At a time when people are reflecting on the role and impact of capitalism and conventional philanthropy, B Corp's certification model is propelling business to pay more attention to the development of society and philanthropy more effective. It's Theory of Change has two cores: legal guarantee and an operable standard to measure impact: BIA(B Impact Assessment). Governance tool + BIA tool, i.e. the effective combination of law and certification is a way to protect the social mission of enterprises and attract more stakeholders to join and form a eco system. "
Leping's Feasibility Study and Action Plan

According to preliminary results, Leping divided the feasibility study into 3 phases and made a corresponding action plan.
The three phases of B Corp feasibility study: First phase is getting the basics right, to understand the innate logics of B Corp. Second phase is to know the market readiness by contacting different stakeholders, understanding the attitudes of investors, consumers, competent government authorities, business school and media. Third phase is to encourage various enterprises of different corporate structures, industries and scales to apply for B Corp and collect feedback, analyze and send it for reference of B Lab, so they know how to change to adapt to Chinese market.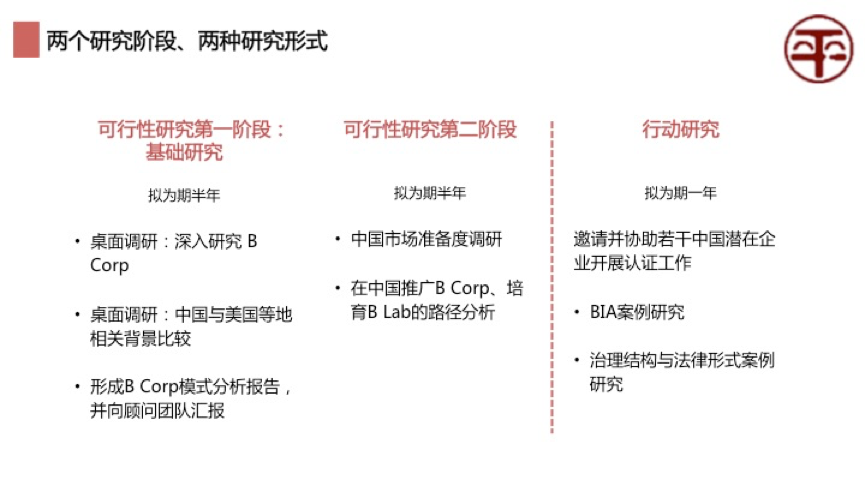 Leping will work on an action plan based on the feasibility study:
Find benchmark companies. To strike a balance between "ideal" B Corp and diversified needs, we should stick to the core: a true B Corp is an enterprise that is excellent in aspects like environment and social impact.
Cultivate a cross-sector eco-system based on the business sector. In China, we need people from all fields who are able to use business as a force for seeking sustainable development model to participate in the expiation of B Corp.
Find localized solution through collaboration. Together with B Lab America, we are seeking a collaboration that ensures the quality of certification, is highly localized and able to address the unique problems in China.