"如果没有好的产品"Without good products and service, B Corp is no more than a hollow concept. Leping initiated the B Corp feasibility research in China both to join the movement that is sweeping the globe, but also to explore the possibility of a new global civilization. Leping positions itself as 'the catalyst and market maker for social innovation', as we are thinking how to generate new values through implementation research and learning by doing. We will always stay foolish and stay hungry, and B Corp is a very good starting point because of the operability of its certification model."
--Dongshu(Jaff) Shen, CEO of Leping Social Entrepreneur Foundation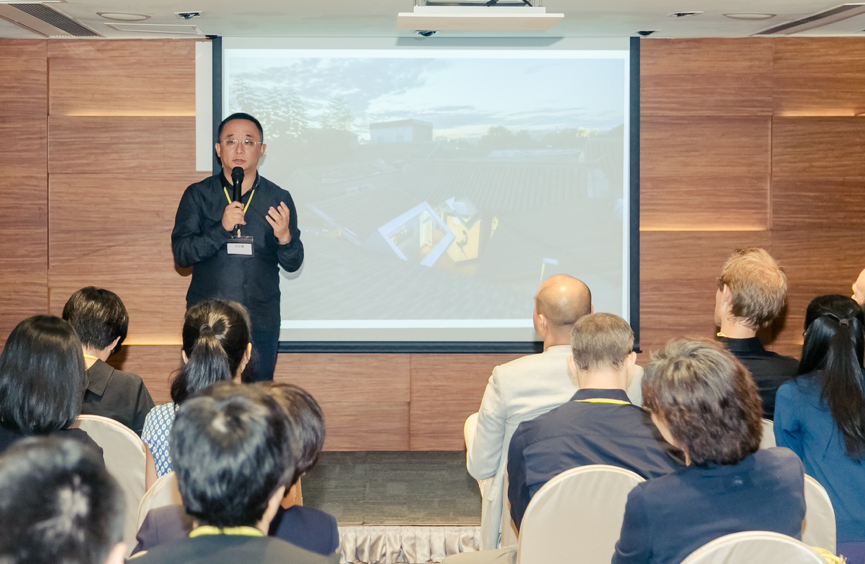 Dongshu(Jaff) Shen, CEO of Leping Social Entrepreneur Foundation
On September 23rd, during the Hong Kong Social Enterprises Summit, Leping Social Entrepreneur Foundation, Hong Kong Society for Entrepreneurship Forum, Hong Kong Society of Social Sciences and SVP jointly held the "Cross-Strait B Corp Perspective Forum". Dr. Jane Lee, Chair of the Organizing Committee of the Social Enterprise Summit and Vice-Chair of Hong Kong Social Enterprise Forum, inaugurated the forum with a welcome speech:
"Starting this year, we will not only promote B Corp in Hong Kong, but also work together with friends from cross the strait, to explore the way of motivating private enterprises to incorporate B Corp philosophy into their production and operation, to promote social entrepreneurship and social innovation from a different perspective.
The forum invites B Corp experts from Europe and the U.S. to share their theories and experience, in the hope that the concept of B Corp will be implemented well in Asia, especially Hong Kong and across the Taiwan Strait."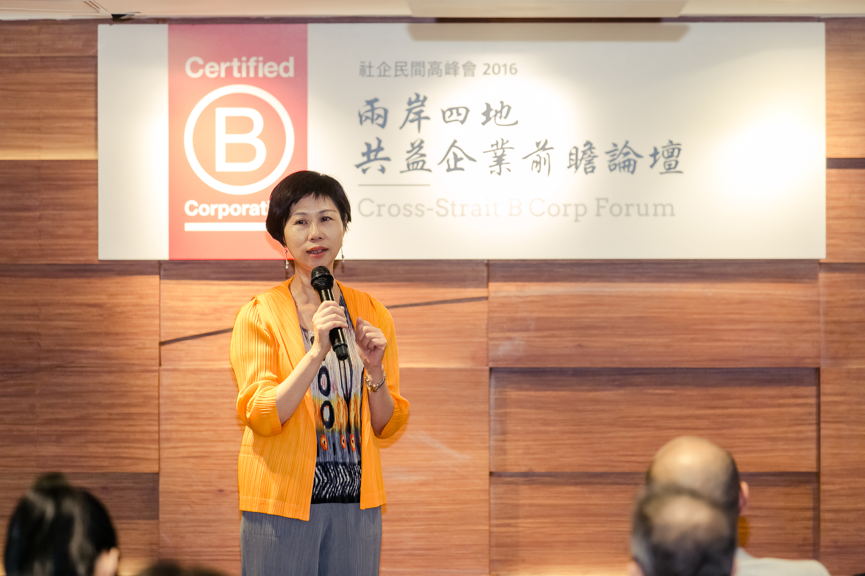 Dr. Jane Lee, Chair of the Organizing Committee of the Social Enterprise Summit and Vice-Chair of Hong Kong Social Enterprise Forum
This forum convened B Corp advocators from all over the world, social innovators and researchers, business leaders, philanthropists, lawyers, reporters, educators and so on. In this article we will use the main idea of several guest speakers to show the birth of B Corp is an inevitable social progress.
B Corp Is a Product of Mainstream Business' Long-Time Quest for Social Values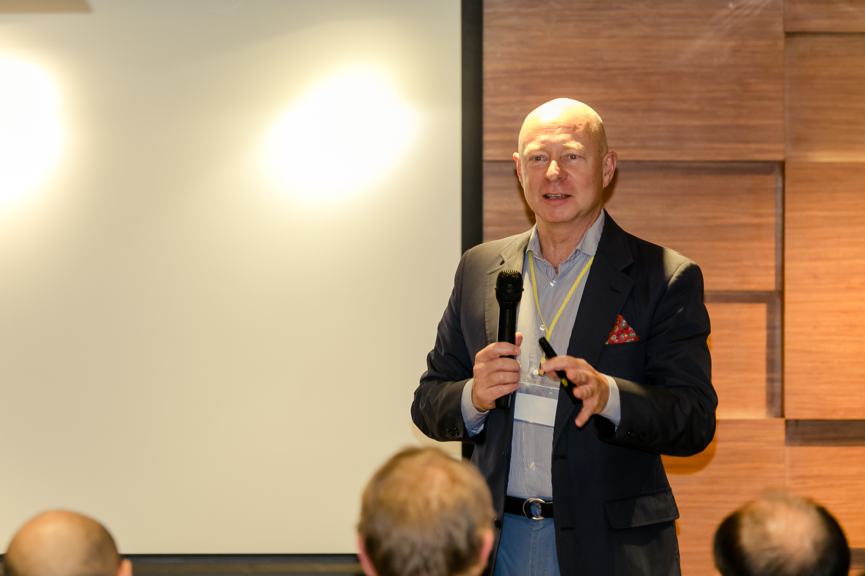 Marcello Palazzi, co-founder of B Corp & B Lab Europe:
"Two and half years ago, I introduced B Lab to Europe. Today, there are more than 300 B Corps in Europe. This is a global movement in the business field, turning capitalism into a force to realize social values."
Capitalism's relentless pursuit for profit and efficiency has backfired: wealth gap, environmental issues, unsustainable development, just to name a few. We came to know that business should not run like the way before. The entrepreneurs I know devote all their life to seeking commercial success, if they pursue social values at the same time period, the outcome would be enormous. In this sense, B Corp is more like a product of mainstream business' quest for social values over the years.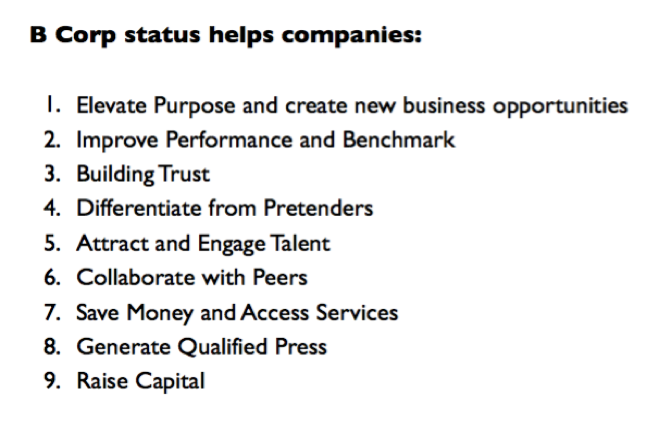 Reasons companies apply for B Corp
B Corp's Philosophy Leads the Transformation of Commercial Capitals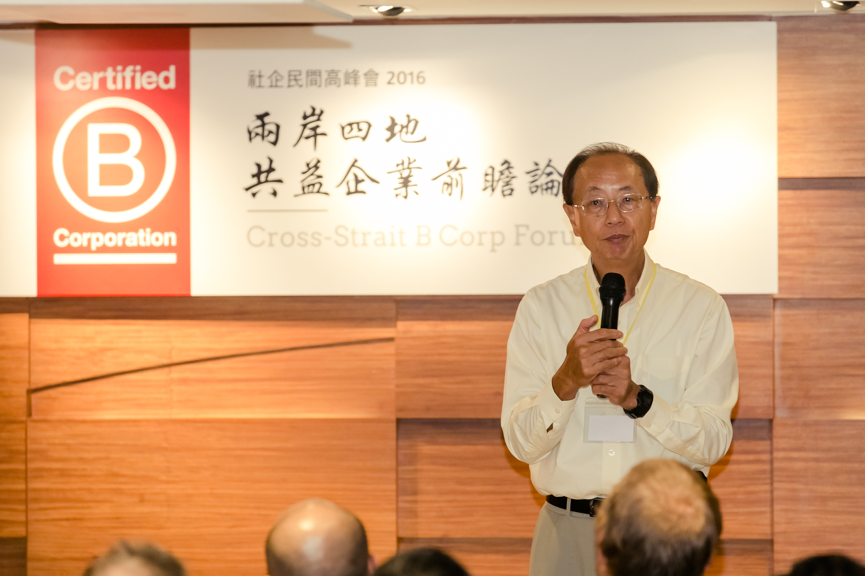 Dr. KK Tse, Founding Chair & Chief Education Officer of Education for Good CIC Ltd. (B Corp) and Founding Chair of Hong Kong Social Entrepreneurship Forum:
"In the past decade and more, Hong Kong witnessed the ugly side of capitalism, and how the whole society disintergrated because of economical and social issues. I deeply realized the mainstream business environment must be changed. Therefore, I think the emerging of B Corp and other similar concepts are leading the way for big business capitals' transformation. For example, Walmart started a series of activities that benefit the society after visting Interface, a B Corp. Currently, there is only one B Corp in Hong Kong—Education for Good, but in whole Asia this figure has reached 34. I believe in the near future, there will be many more certified B Corps in Asia. "
B Corps Activate the Power for Communities to Create Social Value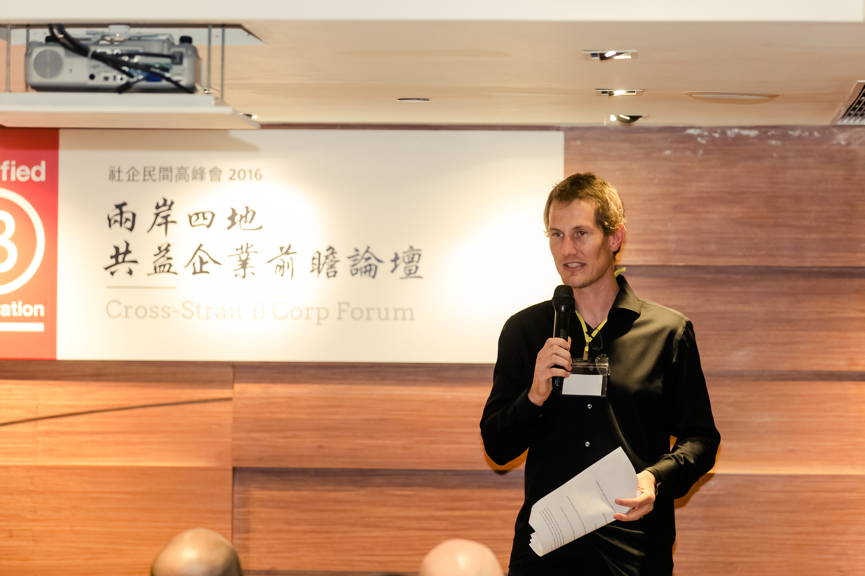 Sustainable development consultant Ryan Honeyman wrote a book called The B Corp Handbook, to help enterprises get B-Corp certification:
"I'm interested in B Corp for the following 3 reasons:"
It has a measurable assessment system. As a sustainable development consultant, I know if we can't measure concepts like "shared value", then they are meaningless to commercial organizations. Therefore, B Corp's measurability and operationally is very valuable.
Wide press coverage. The B Corp wave has gone beyond the small circle and won the spotlight of mainstream media like The New York Times, The Economist, Wall Street Journal and so on.
It builds a bold, new community that has positive impact on society. The power of this community is enough to attract the interest of large listed companies like Unilever, who wish to take B Corps with sustainable business models under its wing.
Through a measurable assessment system, B Corp is a movement to generate social values using business as a force for good. This powerful community can help many commercial organizations to be more sustainable and beneficial to society and environment.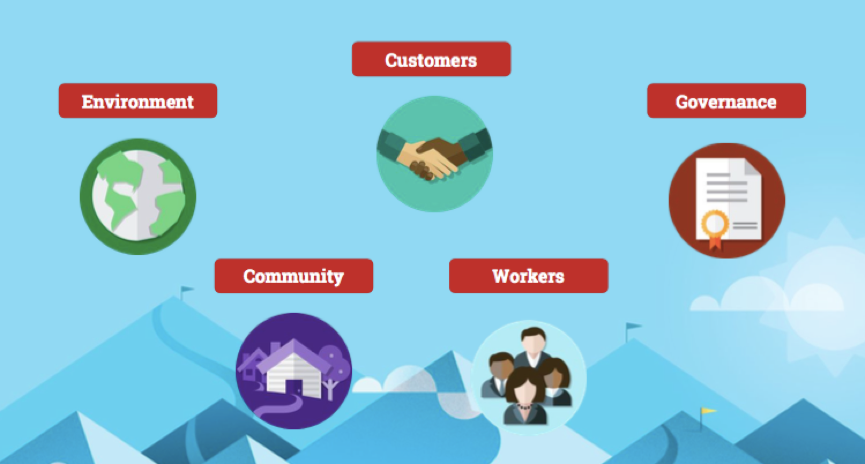 the B Impact Assessment has 5 aspects: environment, consumers, governance, workers and community
Selected Q&A:
Q: "In recent years we can hear new concepts like Shared Value, Social Enterprise and so on. How should we see these concepts that are similar to B Corp, and the 'do good' trend they are sparking in the business realm?"
Marcello: "I think B Corp's is a deeper and more concrete concept evolved from these notions. We believe, B Corp certification to enterprises is what X-Ray to human, exposing whether one enterprise has the frame to promote environmental and social progress. It's more like an action plan of the concepts you just mentioned. Of course, the important thing is not to differentiate these concepts, but to see which has more vitality and sustainability. Now, the UK is funding our B Corp program in Africa, because they believe B Corp will benefit business and society there for at least 20 years."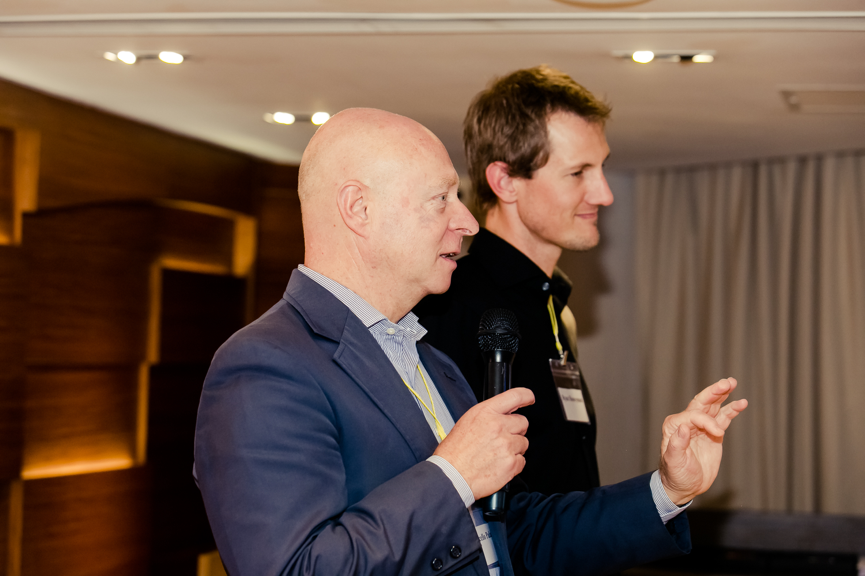 Marcello and Ryan answers questions from audience
Q: "Except certifying B Corps, what are the other services B Lab offers to certify B Corps?"
Marcello: "B Lab Europe mainly does three things: (1) identify real B Corps; (2) assist them to complete the certification process; (3) building and activating a global community of certified B Corporation. The last step benefits all the certified B Corps, and is where the core value of B Lab lies."
Ryan: "B Lab helps many consultants like me work better. We can use a series of tools B Lab offers to enhance the sustainability of companies' development. In addition, more and more MBA students are using BIA (B Impact Assessment) to offer consultation, helping them getting the B Corp certification while putting the business theories in classroom into practice. B Lab is also affecting these people invisibly."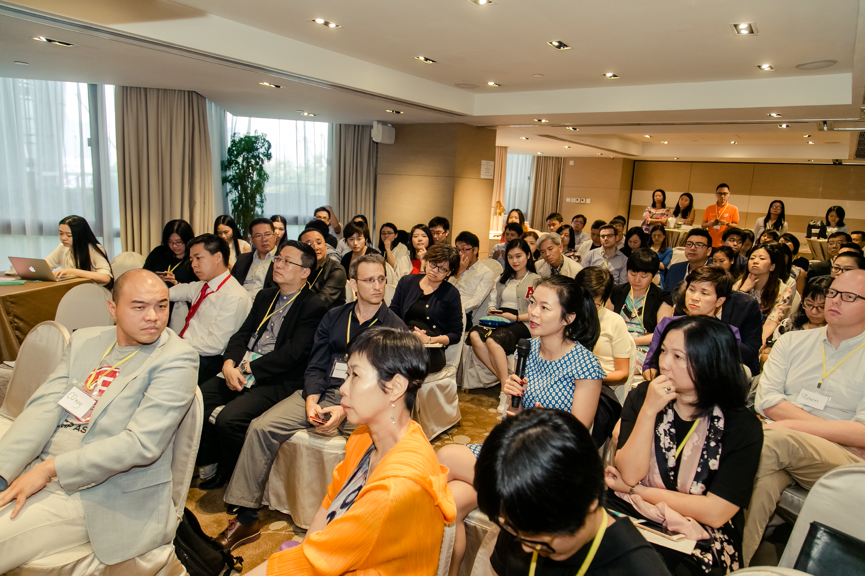 Audience asked questions actively
Q: "More and more surveys show that young people are increasingly longing to work for companies with social objectives and impact. What's your take on this?"
Ryan: "Certainly, mainstream media like New York Times' surveys show that young people are more willing to work for companies with social mission. MBA students can help to transform some companies into B Corp, many newly graduates are also opting for some stylish startups with social impact."
Marcello: "I encourage young people to work in B Corps. As far as I know, there are many business schools, Yale, Columbia and New York University included, offering financial incentives like student loan discounts for those who choose to work in B Corps after graduation."