SVP Beijing partners founded a Social Innovation Investment Group in 2015 to learn from local experiences and cases on social innovation and seek to invest in potential social innovation organizations, exploring ways to diversify the investment of SVP. In the past 3 months, SVP partners evaluated 20 various social enterprises and nonprofit organizations by desk research and field trips.
Five of them left us with deep impression. SVP Beijing innovative investment group launched a "SVP Beijing·Innovative Nonprofit Road Show" and invited Lance Fors, the former president of SVP international, SHEN Dongshu(Jaff), CEO of Leping Social Entrepreneur Foundation, other SVP Beijing partners and specialists from all walks of life to join us. We wish to provoke, share and exchange thought on social innovation by present a road show on these five organizations. Let us regale you with a wonderful midsummer night dream.
1. Beijing HeArt Technology Co., Ltd.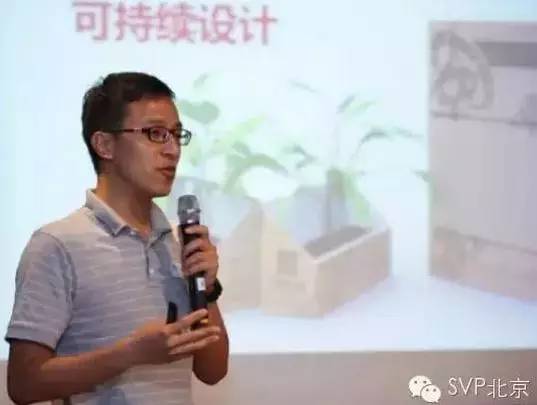 北京盒而特科技有限公司创始人王晓波
What Happened to Delivery Boxes Today?
We find the delivery boxes on the market has limited functionality, resource-intensive and cause waste on both natural resources and function.
Check out Our Solution!
We designed reusable delivery boxes:
· It's easy to assemble, no need for duck tape and opens with paper zip;
· After one box is opened, it can easily be converted into flower pot and other sustainable objects.
· We offer many options on materials and texture.
"We Plan to..."
HeArt will launch an online shop to sell our boxes and expand cooperation with our manufacturers to cover more first and second tier cities in China.
Peter, SVP Beijing Partner:
I tried to persuade my own staff to participate in recycling of paper boxes, therefore I'm very interested in what you're doing. I have a suggestion on using your boxes as flower pot. Paper pots tend to have short life span, because they are not waterproof anymore after 2-3 watering. I think you need to think twice here. In addition, HeArt is still on the stage of product design, there is more to explore in terms of marketing and sales. Only when you reach a certain scale, can you have a more effective solution for the social issue you want to address.
Lance Fors, former Chairman of SVP:
I want to ask you a question: how much do you know about your end consumers? For example, what's their using habit? How big is the market? As to the recycle and reuse of paper boxes, I believe there are previous examples that you can draw on.
2. RiceDonate App
"Why Are We Here?"
We found that philanthropic organizations have limited funding channels; on the other hand, many philanthropic-minded people cannot find a trustworthy donating platform.
"Here's Our Solution!"
RiceDonate developed an app, which offers a platform to integrate the demand of general public, companies and philanthropic organizations. It's a user-centered platform designed to involve multiple parties to make fair and wise decisions on distribution, streamline procedures and make interaction more effective, bringing win-win outcome for all the 3 parties involved.
Philanthropic organizations can list their programs for crowd funding.

Common users can win "rices", a kind of virtual currency, by completing simple tasks and use them for donation.

The donators can learn about the philanthropic projects and donate accordingly.
"Current Development"
Currently, RiceDonate collaborates with around 1,000 NGOs and philanthropic organizations in 14 provinces. We are focusing on expanding our current user base from these covered areas, 80% of which are high school and university students aged around 16-24.
TIAN Chen, SVP Beijing Partner:
TIAN Chen: In the three stakeholders, whose growth is most important to you? What method do you use to generate rapid growth of the stakeholders, attract them and make them stay?
MO Zihao (founder): Users, who are the engines of our model. We want to make doing good fun and easy to participate, and hope to attract more users in this way.
Lance Fors, former Chairman of SVP:
I want to know how RiceDonate finds a sustainable development model. It's important to get some advice on development; but ultimately you need to discover the needs of end users and build a sustainable business model.
3.BottleDream
Zhongsheng, Editor-in-chief of BottleDream: "Why Are We Here?"
We think China needs a good, young and imaginative social innovation media platform, and there is currently none.
What Do We Do?
By posting original interviews, translated articles, infographics and documentaries, we tell the stories of change makers and spread knowledge on social innovation.
"We Plan to..."
BottleDream hopes to build a borderless organization that rely on the cross-sector collaboration of members from all walks of life to utilize unused urban space and build a social innovation media platform.
XU Kaiying, SVP Beijing Partner:
Your way of approach it and story-telling method is very enlightening. For the change of operation model you're planning, maybe you can seek support on operations strategy from SVP.
Lance Fors, former Chairman of SVP:
BottleDream encourages young people to learn and operate projects while keeping their day job. It could be a challenge to the time input of participants. The other thing is the source of funding of BottleDream, after all, there is certain maintenance cost for running a network and organization.
4. One Education
REN Zhuxi, Partner of One Education: "We spotted a problem in current Chinese education system."
Schools and families are in need of innovative educational resources and the society needs proactive citizens, but currently there are not enough materials for innovative and civil education.
"How Do We Conduct Education"
We help students develop their sense of social responsibility, leadership skills and practical skills through coaching them to design and implement their own innovative projects aimed at solving a specific social problem.
We offer summer, winter camp and one-on-one VIP services to cater to general and specific demands on education.

According to our unique leadership model, we guide students to set theme, design and execute their personal projects to cultivate them into social leaders.
"We Will Take Actions Here!"
One Education wish to expand to more first and second tier cities and increase market share; meanwhile, we want to further optimize existing programs, develop an educational system that covers teaching, teach materials and teachers, so this model can be scaled up and reproduced.
GUO Xiaoyue, SVP Beijing Partner:
I come prepared with questions today. As an education insider, I think team building or retaining of teachers is always a challenge. One Education is facing the same challenge. However, I believe if we face up to the challenge, more people might join us and things that are more interesting can happen, so everybody will go further.
Lance Fors, former Chairman of SVP:
A cohesive team is the cornerstone of starting a business. Besides, I think if you can conduct some follow-up survey on students who experienced your programs, you will understand the effect of the programs better.
5. Sunshine Library
GAO Renchi, CEO of Sunshine Library: "We spotted a problem."
Against the backdrop of technical reforms in education, the disparity on infrastructure, faculty and teaching content between urban and rural schools are widening.
"Our Solution"
Sushine Library provides rural schools with wifi connected classroom, quality teaching content and teachers' professional development resources, to diversity forms of teaching and improve effectiveness, in order to spark a revolution on rural schools in the digital age.
We provide rural schools with tablet PC as hardware, on which we installed a set of tools in the form of apps.

We provide rural schools with teacher training and assist teachers to conduct in-house training.

We introduce quality third-party teaching content and support teachers to conduct in-school content development.
"We Plan to..."
In the next 2 to 3 years, we hope to expand our team and participating schools, and establish goals, measures and assessment methods.
WANG Gan, SVP Beijing Partner:
After listening to your presentation, I feel that now we have various technologies and the Internet at our hands, and we want to make a difference using them; we often let our designer's instinct direct us in terms of what is good and what will give us sense of achievement. But when it comes to reality, it's another story. I'm also working on rural education, and if you want to truly implement what you've designed, you need to incentivize the users to do it everyday. What you brought should be able to help them, solve their problems, so that he will be willing to use it everyday. If rather than offering help, it adds to their work and the input is far more than outcome, then they will not be willing to use your product. I think this is a takeaway for you.
Lance Fors, former Chairman of SVP:
I think you need to decide whether you want to be the activator or the pacesetter of the market. These are two different roles. In addition, deeper market analysis is also necessary.